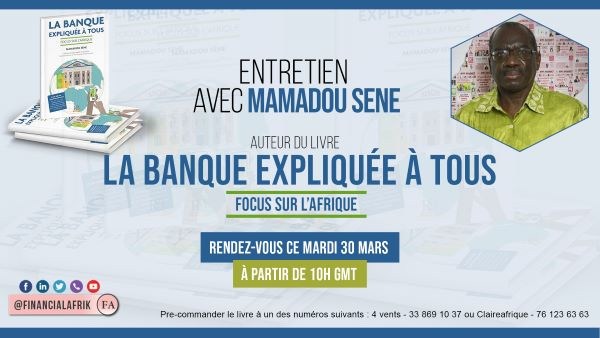 To be continued on Tuesday March 30 from 10am GMT on the financialafrik.com, YouTube and Facebook websites.
On the occasion of the release of his book "The Bank Explained to All – Focus on Africa", published by RB Edition, Mamadou Sene engages in the game of questions and answers with Adama Wade, publication director of Financial Afrik.
Member of the board of directors of CBAO Groupe Attijariwafa bank, former Managing Director of Société Financière d'Équipement au Senegal, Bank of Africa-Niger, Bank of Africa-Mali and Orabank Guinea, in his book Mr. Mamadou Sene reviews key concepts of the banking industry in question-and-answer format.
Kapital Afrik intends to deliver strategic financial information to executives and managers, through a daily newsletter and a website that covers all African finance.