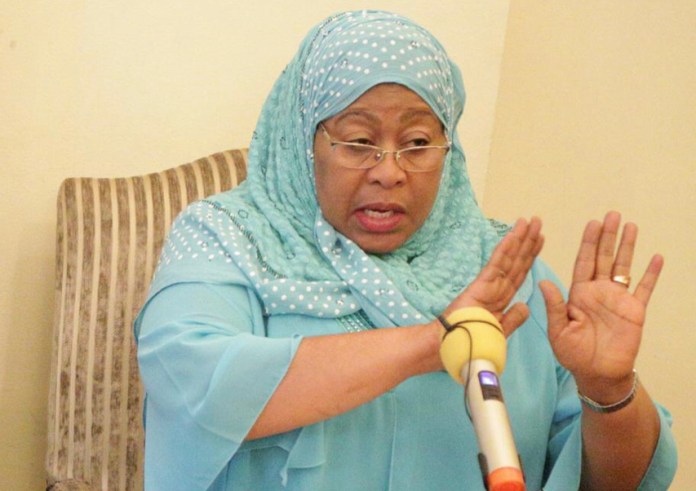 Less than 48 hours after the death of Tanzanian President John Magufuli from Covid-19, Tanzania has a new president.
This is the former vice-president, Samia Suluhu Hassan, invested under the Constitution of the United Republic of Tanzania, or permanent constitution, ratified in 1977.
John Magufuli's running mate during the last presidential elections thus becomes the first woman president of the multiparty federal republic born on April 26, 1964 from the merger of Tanganyika and Zanzibar.
According to the constitution, the Muslim woman from the semi-autonomous archipelago of Zanzibar will hold this post for at least 5 years (until 2025) as her predecessor was re-elected for a second term from 2020 to 2025.
Born January 27, 1960 in Zanzibar, Samia Suluhu Hassan had a very active political life with several positions of responsibility. She was notably a member of the Chama cha Mapinduzi (CCM) party, before being a minister in the semi-autonomous region of Zanzibar.
Her last speech was on March 17, 2021, when she announced on Tanzanian television the death of 61-year-old President John Magufuli.
The head of state, she reports, died of heart problems at Emilio Mzena Hospital in Dar es Salaam.
Exceptional political career
In 2000, Samia Suluhu began her political career as a member of the Zanzibar House of Representatives.
Through her convictions and tenacity, she was appointed minister under President Amani Abeid Karume.
Other highlights, in 2010, she was again a candidate for the National Assembly, in the constituency of Makunduchi and won by more than 80% of the votes cast. President Jakaya Kikwete then appointed her Minister of State for Union Affairs.
In July 2015, CCM presidential candidate John Magufuli chose her as running mate for the presidential election, included in the 2015 Tanzanian general elections. Samia Suluhu Hassan is the first woman chosen as running mate by an election candidate Tanzanian presidential election.