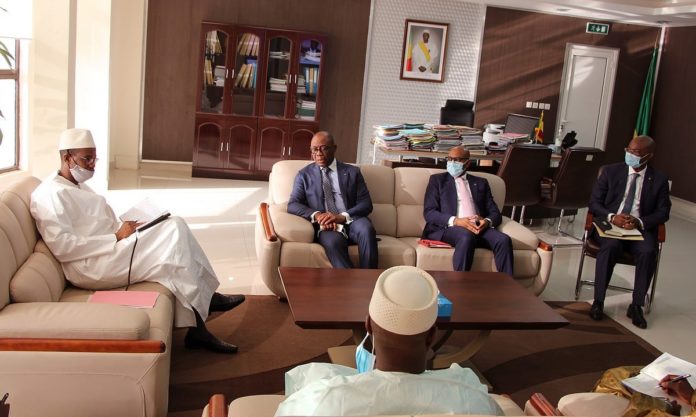 The Minister of Economy and Finance Alousséni Sanou received in audience on January 22, 2020 the President of the West African Development Bank (BOAD) Serge Ekue visiting Mali. The two personalities discussed the state of cooperation between Mali and the financial institution and the prospects
After congratulating his host on his appointment at the head of this regional institution, he invited him to work more for a strong strong involvement of BOAD in socio-economic development in Mali, in particular in favor of the financing of infrastructure and private sector heavily impacted by the Covid-19 pandemic.
Accompanied by former Malian Minister Moustapha Ben Barka who occupies the post of Vice-President of the West African Institution, Serge Ekué assured Minister Sanou of BOAD's strong will to support Mali in its development objectives.
As a reminder, the West African Development Bank (BOAD) has become a specialized and autonomous institution in the UEMOA zone. It contributes in complete independence to the achievement of the objectives without prejudice to the objectives assigned to it by the West African Economic and Monetary Union Treaty.
Note that BOAD's active portfolio in Mali has thirty (30) operations for a total amount, in terms of signed agreements, of CFAF 307.744 billion. These operations finance nineteen (19) projects and programs and a contribution to the fight against Covid-19 through two operations for a total amount of CFAF 28 billion fully disbursed.