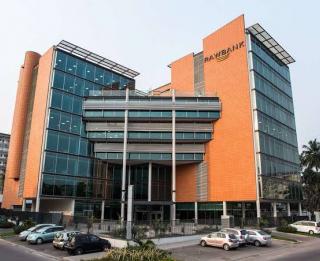 Rawbank, a major player in the banking sector in the Democratic Republic of Congo and African Guarantee Fund, a financial institution facilitating SME financing in Africa, have signed an agreement to increase the Bank's line of guarantee to a total of USD 35 million.
Following two previously signed guarantee agreements in 2016 and 2017, African Guarantee Fund, the continent's leading financial guarantee provider, is once again demonstrating its confidence in Rawbank with a loan portfolio guarantee amounting to USD 35 million.
This financial guarantee will be entirely dedicated to Small and Medium Enterprises (SMEs) qualified for green financing. The program is aimed at businesses engaged in activities related to energy efficiency, renewable energy, agriculture, intelligent natural resource management and climate insurance. The establishment of this partnership reflects the Bank's commitment to Congolese SMEs and to the country's sustainable development. It also demonstrates the solidity of the bank, despite the economic consequences of Covid-19 experienced since last year.
"We are delighted with the addition of this guarantee facility, which reflects the confidence that our pan- African partners have in Rawbank. African Guarantee Fund has exceeded agreements previously signed in 2016 and 2017 by more than double the capacity. This new agreement will enable us to continue to assist Congolese SMEs involved in the preservation of the environment in our country," said Mustafa Rawji, the Chief Executive Officer of Rawbank.
Today, thanks to the confidence placed in Rawbank by international partners such as the African Development Bank and Shelter Afrique, Rawbank has become the leading partner for SMEs in DRC. The Bank has developed the Lady's First training programs to build the capacities of entrepreneurs, facilitate their access to financing and thus develop the local economic fabric. Earlier this year, Rawbank received a $ 20 million funding from the Trade and Development Bank to support Congolese large-scale enterprises and SMEs affected by the Covid-19 pandemic.
"Rawbank is one of our long-standing partners. Since its creation, the Bank has supported SMEs and thus contributes to the development of the local economic fabric. Businesses involved in the preservation of the environment in the Democratic Republic of Congo have encountered major challenges in the past year. Through this guarantee line, Rawbank will provide them with a reliable banking partner that will enable them to recover and grow," said Mr. Jules Ngankam, Group Chief Executive Officer of African Guarantee Fund.
About RAWBANK
Forte de plus de 1 700 collaborateurs avec près de 100 points de vente et un bureau de représentation à Bruxelles, plus de 400 000 clients et 27% de parts de marché, RAWBANK accompagne le
développement de l'économie congolaise. Rawbank est notée par Moody's, certifiée ISO/IEC 20000 et ISO/IEC 27001, et a noué des partenariats de financement avec plusieurs bailleurs internationaux (IFC, Shelter Africa, TDB, BAD…). Sûreté, rentabilité et pérennité sont les priorités opérationnelles de Rawbank pour consolider sa stratégie de croissance, notamment en direction des particuliers et du secteur privé.
About African Guarantee Fund
African Guarantee Fund is a non-bank financial institution whose objective is to promote economic development, increase employment and reduce poverty in Africa by providing financial institutions with guarantee products and capacity development assistance specifically intended to support SMEs in Africa.
African Guarantee Fund was founded by the government of Denmark through the Danish International Development Agency (DANIDA), the government of Spain through the Spanish Agency for International Cooperation and Development (AECID) and the African Development Bank (AfDB). Other shareholders include: French Development Agency (AFD), Nordic Development Fund (NDF), Investment Fund for Developing Countries (IFU) and KfW Development Bank (KfW).
AGF has a rating of AA- by Fitch Ratings Agency. www.africanguaranteefund.com