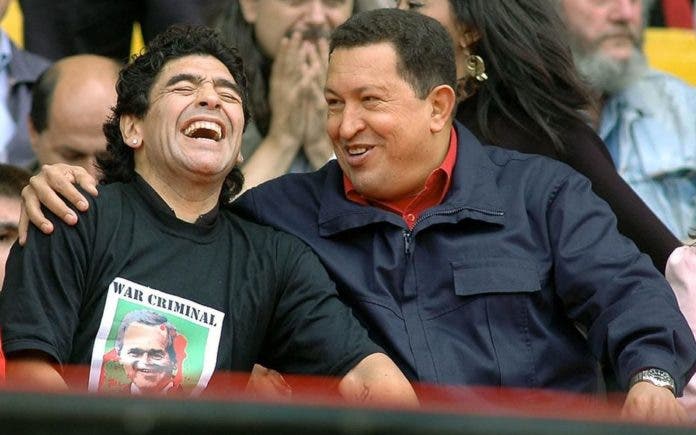 Diego Maradona: the hand of God or the victory of Bolivarianism against capitalism
Diego Armando Maradona, who died on November 26 at the age of 60 in still unclear circumstances, will undoubtedly remain on June 22, 1986, a scorching day in Mexico City where the hand of God, validated by a Tunisian referee, intervenes in an improbable football match before leaving the sequel to the most beautiful goal of the 20th century. Argentina had just defeated England in revenge for the Falklands War four years earlier.
In his book "Mi Mundial, mi verdad" (My world, my truth), Maradona confides, late in the day, that he had wanted that day, "to honor the memory of the dead", of the fallen soldiers on the small archipelago in the South Atlantic. Without being a declared Bolivarian, Maradona was close to Hugo Chavez, the former president of Venezuela, or to Fidel Castro, whom he liked to visit in Havana.
For many activists and supporters, his victory against England symbolized the victory of the radical left against capitalism. But above all, long before the invention of VAR, it was about winning football, a human sport, with its refereeing errors and emotions. French newspaper L'Équipe reckons that God died yesterday in a tribute from the one who was El Pibe del Oro for many fans before grabbing the hand of God to score a still contested goal. "He will be" eternally a God ", say the Spanish media while the Germans state bluntly that" Heaven has seen its owner land ". No one can claim unanimity, Maradona will continue to suffer the wrath of the English who want to replay the game. "It is in the hands of God", headlines the Daily Mirror as the Daily Star with a very British drought, launches: where was the VAR when we needed it? "
Maradona, a "combat fighter" as declared by Jean-Luc Mélenchon, leader of France Insoumise (radical left) disappears while the market and its invisible hand slowly regain the upper hand over Bolivarianism in Latin America. The recent successes of the Latin American rights in Argentina, Chile, Colombia and Brazil show it clearly, it would take more than a match to defeat capital and the ideologies it generates.