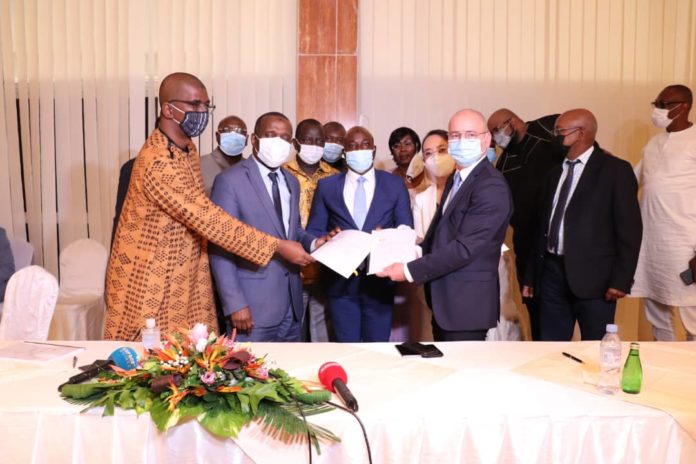 Following the approval by the Council of Ministers of the Government of the Republic of Guinea, and on behalf of the Guinean government, the Ministers in charge of Mines, Budget and Transport have officially signed with Winning Consortium the Railway Agreement for Evacuation of the Iron Ore of Blocks I and II of Simandou and the Port Agreement for the Evacuation of Iron Ore of Blocks I and II of Simandou. The ceremony was attended by HE Mr. Minister of Mines and Geology, HE Mr. Minister of Transport and HE Mr. Minister of Budget, as well as representatives of WCS.
The Basic Agreement for the Simandou Blocks I and II Deposit Exploitation Project entered into force on July 3, 2020, which includes the general principles for the construction of rail and port infrastructure. The rail and port conventions signed today have specified the specific conditions for the construction of the infrastructure concerned. The finalization of these two agreements completes the investment framework of the Simandou Blocks I and II project, and constitutes a solid basis for the advancement of the Simandou project by Winning Consortium. According to the general provisions of the Simandou Blocks I and II project, WCS will build a railway line of approximately 600 kilometers and a multimodal port, to export its iron ore via Guinean territory. Beyond the many benefits in terms of direct and indirect employment as well as the increase in local income, this project will propel the economic development of Guinea on a larger scale. The Ministry of Mines and Geology estimates that direct state revenues will be in the order of US $ 15.5 billion over the full duration of the project.
According to Mr. Sun Xiushun, Chairman of the Board of Directors of WCS, "Despite the health and economic crisis that we are going through, WCS is strictly adhering to the schedule established for the organization and progress of all work. We are confident in the ability of all of our teams to successfully complete this major project! Firmly committed to environmental protection and sustainable development, Winning Consortium will focus the efforts of all to build a world-class mining project, so that the Guinean people benefit from it, and that mutual benefits for all stakeholders. materialize. ".
About Winning Consortium Simandou
Winning Consortium Simandou, formed by Winning International Group of Singapore, Shandong Weiqiao Pioneering Group of China and United Mining Supply (UMS) of Guinea has obtained the right to mine the Iron Ore of Blocks I and II of Simandou in the procedure of international tender organized by the Guinean government. The three WCS members have been cooperating with Yantai Port Group of Shandong Province, China to develop bauxite mining in the Boké region since 2015, whose annual production and export exceeded 40 million tons in 2019.
Kapital Afrik intends to deliver strategic financial information to executives and managers, through a daily newsletter and a website that covers all African finance.