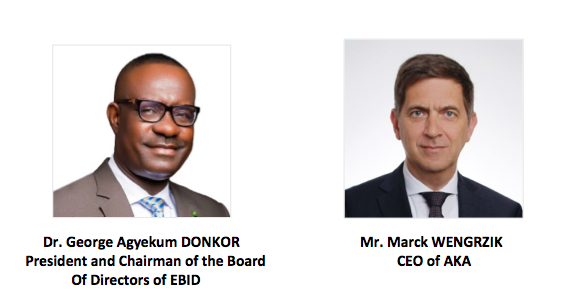 The ECOWAS Investment and Development Bank (EBID) has secured two lines of credit worth 95 million euros from the banking consortium AKA Ausfuhrkredit-Gesellschaft mbH (AKA). Thus, George Agyekum Donkor, President of EBID and Marck WENGRZIK, Managing Director (CEO) of AKA, ratified the agreement via a symbolic virtual conference on Thursday, November 12, 2020. This unprecedented loan agreement marks the start of the agreement. a mutually beneficial partnership between bIDC and AKA.
The loan agreement includes a credit line in the amount of 45 million euros for a period of ten years and a one-year revolving credit line of 50 million euros. The purpose of these substantial credit facilities will be to finance projects under the export contract between the West African Fertilizer Association (WAFA) and Ferrostaal Equipment Solutions GmbH. The credit facilities will be used to build warehouses and factories, as well as to purchase fertilizers and farm equipment. The signing of the loan agreement is an important step for both institutions as it marks the start of bilateral cooperation in the financing of key import projects in the green finance sector as well as in hydropower, solar and wind.
This collaboration between West Africa and Europe was designed not only to boost trade between the two regions, but also to provide endless opportunities for job creation, skills and technology transfer. Also present at the conference were the Vice-Presidents of WAFA, Mr. Bakayoko Zoumana, and Mr. Innocent Okuku, the Commissioner for Agriculture of ECOWAS, Mr. Sangaré, and the Director General of Ferrostaal Equipment Solutions GmbH, Dr. Manuel Probst. The new partnership between EBID and AKA will undoubtedly help to intensify and accelerate EBID intervention in ECOWAS agro-industry and improve food security in the sub-region.