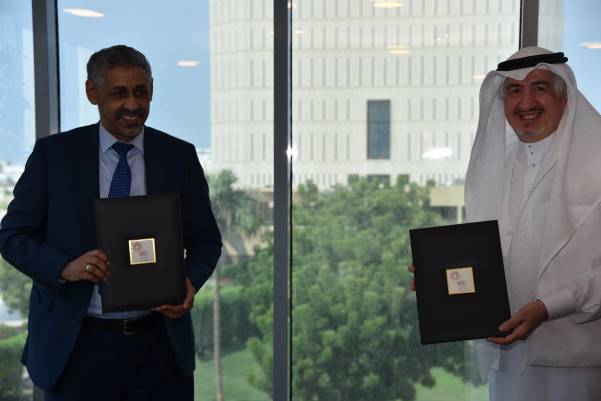 The Arab Bank for Economic Development in Africa (BADEA) is stepping up its partnership with the International Islamic Trade Finance Corporation (ITFC) to help African countries fight COVID-19 by signing a joint program within the framework of of the Arab African Trade Bridges (AATB) program. This signing took place at the headquarters of the International Islamic Trade Finance Corporation (ITFC) between Ing. Hani Salem Sonbol, Director General of ITFC and Dr. Sidi Ould Tah, Director General of BADEA.
BADEA's contribution will finance key initiatives targeting, among others, the health sector and pharmaceutical products in Africa, especially with the implementation of the Continental African Free Trade Area Agreement scheduled from January 1, 2021. The collaboration also includes technical assistance interventions that will be provided as part of the AATB COVID-19 response plan, approved at the 4th AATB Executive Committee meeting, held virtually on April 9, 2020 under the chairmanship of BADEA. This plan includes the project on 'The Harmonization of Standards for Pharmaceuticals and Medical Devices in Africa, initiated by ITFC, Afreximbank and ARSO, intended to promote the quality and reliability of medicines and medical devices imported or produced in Africa .
On this occasion, Mr. Hani Salem Sonbol, Director General of ITFC, underlined the importance of this collaboration, which comes at a time when African countries need it most. "COVID-19 has had a profound impact on the region, in particular on the health sector. It is through the AATB program and by working more closely with partners that we must provide essential support to save lives and improve the resilience of health systems in our member countries in need of immediate assistance. We will work with BADEA, which is a founding member of the AATB program and constant support, for joint initiatives that will also help foster economic development between African and Arab countries ".
For his part, Dr Sidi Ould Tah, Director General of BADEA, also expressed his continued support for the AATB program and praised the partnership with ITFC, especially in these critical times. He stressed that "strengthening the capacity of health facilities in Africa deserves special consideration. AATB program initiatives such as harmonization of pharmaceutical product standards and activities that promote the development of trade and investment between Africa and the Arab world are essential to effectively respond to the challenges imposed by the COVID epidemic. -19 ".
It should be mentioned that since the onset of the pandemic, ITFC and its partners have approved an action plan through the AATB program to help African and Arab countries build their socio-economic resilience to COVID-19. The healthcare and pharmaceutical sectors have been prioritized, with immediate measures put in place, including support for the laboratory network in West Africa with the supply of COVID-19 test kits, testing equipment. laboratory and personal protective equipment (PPE) for medical and paramedical personnel.
Kapital Afrik intends to deliver strategic financial information to executives and managers, through a daily newsletter and a website that covers all African finance.