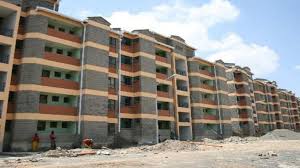 Shelter Afrique's board of directors approved on Tuesday, October 20, the development of the "Kinyinya Park Estate" housing project in Rwanda. Located 8 km from Kigali International Airport, it covers 10,000 large-scale integrated and sustainable housing units.
This project, set up in partnership with several financial institutions including Rwanda Social Security Board (RSSB), will cost around 400 million USD. For now, the East and Southern Africa Trade and Development Bank (TDB) has committed to providing a facility worth USD 150 million to Shelter Afrique, to support the first 2 phases of the project. .
Shelter Afrique Chairman of the Board, Dr Steve Mainda, said the company is committed to achieving its 2019-2023 strategic goals. An initiative which, he emphasizes, aims to achieve both a development impact on all large-scale housing projects in order to create shareholder value.
For his part, Andrew Chimphondah, Managing Director of Shelter Afrique, argued that Africa's huge housing deficit could only be addressed by undertaking large-scale housing development projects. "This is why our strategy places special emphasis on public-private partnerships (P3s) which we believe are essential for providing affordable housing. We are also exploring similar projects in Kenya, Tanzania, Uganda, Zimbabwe, Ivory Coast and Nigeria, "he added.
The Kinyinya Park Estate project is Shelter Afrique's second large-scale housing development project in Rwanda after the 3000 affordable housing project in Rugarama Park Estate in Kigali in June 2019. It will ultimately be a community of 10,000 units developed. by Shelter Afrique in 5 phases over 3 to 4 years. It will also consist of 10,000 affordable apartments and 200 retail outlet units including schools, shops and commercial facilities on behalf of RSSB.