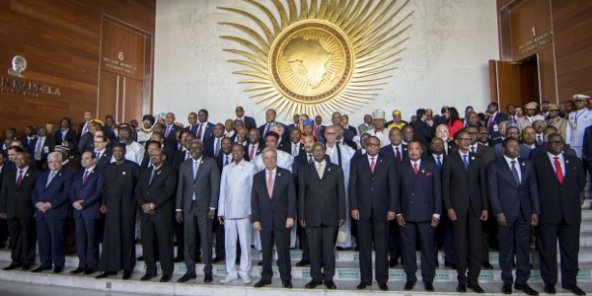 Most African governments have instituted measures to encourage social distancing, focusing on border and travel restrictions, school closures, and bans on large gatherings. South Africa has opted for a 21-day period of full containment. Other countries, such as Senegal and Côte d'Ivoire, have put in place curfews and partial lockdowns, or have considered full lockdown.
The crisis will affect Africa's growth through internal and external channels, with a huge impact on the well-being and the number of people living in poverty. The most recent projections predict a contraction in GDP in most countries in 2020 – the first in 25 years.
According to United Nations estimates, nearly 30 million more people could slide into poverty and the number of people experiencing acute food insecurity could increase significantly.
African policymakers and their partners must reassess the trade-offs between short, medium and long term priorities. These priorities and related policy actions will continue to evolve as economies move into successive phases of crisis response: surviving the epidemic (ensuring that adequate resources are allocated to basic needs, such as medicines and food, and ensure the physical and mental health of populations, as well as their safety); return to normal (helping individuals and businesses to resume operations and repair damage suffered during the pandemic); and refocus on the long term (reorienting resources and focus on long term development).
Below is a review of the various measures taken by some key states.
Ivory Coast
Budgetary measures: The government adopted an emergency response plan of XOF 96 billion (or 0.3% of GDP) and announced a series of economic measures of XOF 820 billion (2.3% of GDP) to: support the income of segments the most vulnerable of the population, through support for agricultural inputs and increased cash transfers; providing assistance to the hardest hit sectors and businesses; and supporting public entities in the transport and port sectors to ensure continuity of supply chains.
Country: Egypt
Fiscal measures: The government announced stimulus measures as part of a USD 6.4 billion (EGP 100 billion, or 2% of GDP) plan to mitigate the economic impact of COVID-19.
Country: Ethiopia
Budget measures: Ethiopia initially announced ETB 300 million in early March to support health spending. On April 3, the Prime Minister's Office announced a COVID-19 Multi-Sector Preparedness and Response Plan, with a forward-looking assessment of response costs. This plan is to be implemented over the next few months and will require funding of USD 1.64 billion (or around 1.6% of GDP).
Country: Morocco
Budgetary measures: The authorities have created a special fund dedicated to the management of the pandemic, of about 2.7% of GDP, financed by the government and voluntary contributions from public and private entities, which will be tax deductible. This fund will cover the costs of modernizing medical facilities and support businesses and households affected by the pandemic.
Country: Nigeria
Budgetary measures: A fiscal stimulus plan, in the form of a 500 billion NGN (1.4 billion USD) COVID-19 intervention fund, has been approved by the President to support health facilities, relieve taxpayers and encourage employers to retaining and recruiting staff during the recession.
Country: Senegal
Budgetary measures: The government has established an emergency fund of up to XOF 1 trillion (or 7% of GDP), financed by a combination of donor contributions, voluntary private sector grants and funds from the government. State budget. This fund will be used to support vulnerable households and businesses.
Country: South Africa
Budgetary measures: The government helps companies and workers in difficulty through the Unemployment Insurance Fund (UIF) and special programs of the Industrial Development Corporation. Additional funds are made available for the health response to COVID-19, workers with incomes below a certain threshold will receive a small tax subsidy over the next four months, and the most vulnerable families will see their amount. Social assistance temporarily upgraded for the next six months. A new six-month COVID-19 aid was also created to cover unemployed workers not receiving aids or allowances from the UIF, and the number of food packages for distribution was increased. Funds are available to help SMEs in difficulty.
Country: Uganda
Budgetary measures: The authorities used part of their Emergency Fund in the 2019/20 budget to finance around 1/5 of the Ministry of Health's preparedness and response plan from January to June 2020 ( around 1.3 million USD out of a total of 7 million USD). The government has adopted an additional budget of around $ 80 million to support critical sectors such as health and safety on the front lines of this pandemic. He is working closely with the private sector and other stakeholders on economic stimulus measures following the COVID-19 pandemic.
---
Source: Compiled from various sources as of May 4, 2020 (national and IMF sources) (https://www.imf.org/en/Topics/imf-and-covid19/Policy-Responses-to-COVID-19). Updated information is available through the OECD Policy Tracker (https://oecd.github.io/OECD-covid-action-map).