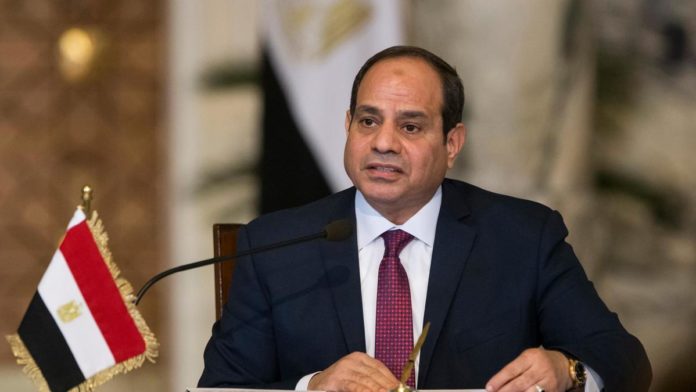 The 2020 Final Conference takes place on August 25 via videoconference
Trophée Babacar NDIAYE is pleased to announce that the President of the Arab Republic of Egypt, HE Mr. Abdel Fattah al-SISI accepted the Super Prize Great Builder – Trophée Babacar NDIAYE 2020 which was awarded to him by the Selection Committee at the end of the Inaugural Conference of July 13, 2020. The General Commission was informed of this important news through diplomatic way.
The General Commission is delighted with this reaction of President Abdel Fattah al- SISI and reiterates its very warm congratulations. The General Commission also congratulates all the Egyptian people.
As a reminder, the Selection Committee designated President Abdel Fattah al-SISI as the 2020 winner of the Babacar NDIAYE Trophy for his personal leadership and for carrying out several works that contribute to improve the quality of life of the populations. The Selection Committee particularly welcomed:
1- The Heliopolis metro station project in Cairo
2- The project of the suspension bridge over the Nile, in Cairo
3- The Damietta port extension project and the rehabilitation of the Tanta – Mansourah – Damietta railway line
The acceptance of the trophy by the winner blithely paves the way for the Final Conference which takes place each year on the sidelines of the Annual Meetings of the African Development Bank (AfDB). This year, both events take place in virtual mode.
The 2020 Final Conference will be, like that of previous years, a moment of discussion around the central theme: "Roads and transport to improve the quality of life of people in Africa". To develop this theme, several speakers are planned, including the Minister of Transport of Egypt, Mr. Kamel ELWAZIR. A link is available on www.acturoutes.info to follow the interventions.
However, given the special nature of the year 2020, the General Commission informs that the actual presentation of the Super Prize Great Builder – Trophée Babacar NDIAYE and that of the two Special Prizes will be done on other occasions in agreement with each recipient.
In the meantime, the General Commission also congratulates again the President of the Republic of Côte d'Ivoire, His Excellency Mr. Alassane OUATTARA, and the President of the AfDB, Dr Akinwumi ADESINA, winners of the Special Prizes.
The General Commission thanks all the personalities who have contributed to the success of The Africa Road Builders – Trophée Babacar NDIAYE for five years. He especially expresses his deep gratitude to Prof. Carlos LOPES, former Executive Secretary of the United Nations Economic Commission for Africa, University Professor in South Africa and at Science Po Paris.
The General Commission thanks all its partners, in particular the AfDB, AGEROUTE Côte d'Ivoire, FERA (Senegal), BNETD (Côte d'Ivoire), the Media Network for Infrastructure and Finance in Africa (MIFA), TV5MONDE, Financial Afrik and ACTUROUTES.
Finally, the General Commission salutes the memory of Dr Babacar NDIAYE, former President of the AfDB, who inspired this event. The General Commission thanks Babacar NDIAYE family.