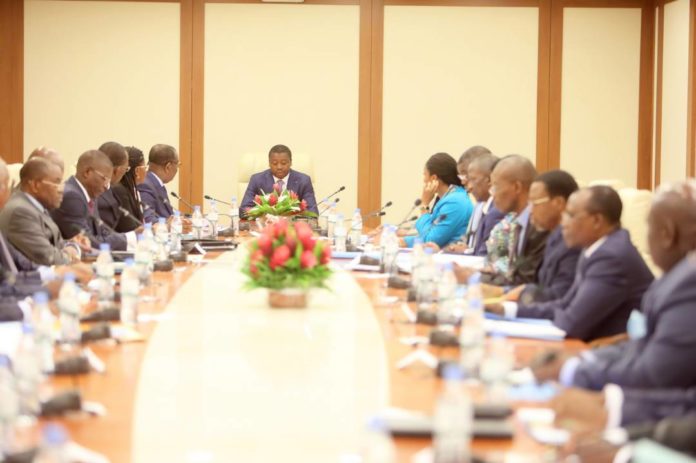 The Togolese government adopted Wednesday, November 13, the draft budget finance 2020 whose budget estimates are in resources and expenses to 1,463.8 billion FCFA against 1378.7 billion in 2019, an increase of 6.2% "due to the increase in cash resources".
"The fiscal outlook is based on a macro-fiscal framework that takes into account national and international economic environments, efforts to be provided under the IMF-supported economic and financial program, which is coming to an end at the end of the year. 2019, "reads an official statement. "In order to structurally transform the Togolese economy, the government intends to focus on implementing the activities of the three axes of the NDP, while paying attention to programs such as the Community Development Emergency Program (PUDC). ), the Vulnerable Populations Support Program (PAPP) and the employment of young people from different sectors and agropoles ", it adds.
In addition, the State announces a continuation of the prudent fiscal strategy aiming at the sustainability of public finances through an improvement of the revenue collection and a control of the expenses in order to release a budget balance in conformity with the Community standard. In 2020, fiscal policy "will focus on the further improvement of domestic resource mobilization, better allocation of public resources based on the efficiency of public spending and control of the budget deficit".
In its communiqué, the government also announces that it is "resolutely committed" to further consolidating public finances and taking all measures to accelerate economic growth "in order to ensure proper management of the social demand ". For 2020, its growth forecast is 5.5%, an increase of 0.2 percentage points compared to the forecast for the current year.
"This growth will be driven by the final consumption of households and private investments, in connection with the improvement of the business climate that has already allowed our country to win 40 places in the latest ranking of Doing Business thus placing Togo in the 97th ranking in 190 countries around the world and the fallout from the Togo-EU Economic Forum, "he says.
The adopted text, before its implementation, must be voted by the National Assembly; a simple formality especially considering the current composition of the parliament resulting from a vote boycotted in December 2018 by several political parties of the opposition.
Rédacteur en chef de Financial Afrik. Basé à Lomé, Nephthali Messanh Ledy représente Financial Afrik depuis deux ans. Outre l'économie et les finances africaines, il est passionné de l'actualité internationale. Diplômé en Commerce International et en Marketing – Communication, il s'intéresse également aux réseaux sociaux et au football.