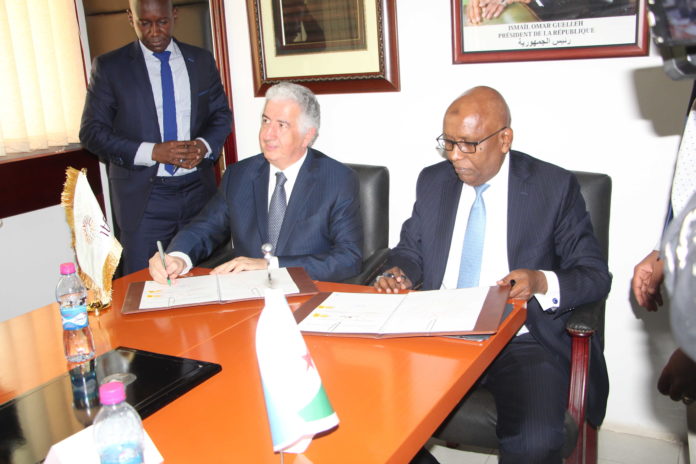 The framework agreement will contribute to the socio-economic development of Djibouti
The International Islamic Trade Finance Corporation (ITFC), a member of the Islamic Development Bank (IDB) Group, has signed a major trade finance framework agreement with the Republic of Djibouti. The framework agreement was signed between ITFC General Manager, Eng. Hani Salem Sonbol and Minister of Finance S.E.M Ilyas Moussa Dawaleh, during the official visit of the ITFC delegation to the country. The visit was also the occasion of a summit meeting between the Director General and the President of the Republic of Djibouti, Mr. Ismaïl Omar Guelleh.
Eng. Hani Salem Sonbol said, "The Framework Agreement mobilizes up to $ 600 million in financial resources over three years to finance strategic sectors of the Government of Djibouti, including the import of key energy products such as but also to help private sector development through strategic partnerships with local financial institutions to support SMEs ".
"The Framework Agreement also emphasizes the establishment of strategic capacity building programs that will build on the proven expertise of other OIC member countries in the storage and refining of petroleum products. to improve the country's import and export trade flows ". Adds he.
The capacity building program is envisaged to support Djibouti's ambition to become a hub for refined petroleum products trading in East Africa by increasing national oil storage capacity.
The President of the Republic of Djibouti, Mr. Ismaïl Omar Guelleh, said: "It is necessary to make known the importance and benefits of Islamic finance for the banking sector in Djibouti, particularly as a viable means of financing the sectors. such as energy, tourism and the maritime sector. Investing in our workforce through capacity building and the provision of know-how will lead to increased development and stability while addressing youth poverty and unemployment. In addition, strengthening regional cooperation is essential as the country's investment needs in infrastructure increase. By leveraging ITFC's expertise and experience in socio-economic transformation in the region, we aim to create greater prosperity and a better future for the people of Djibouti. "
Kapital Afrik intends to deliver strategic financial information to executives and managers, through a daily newsletter and a website that covers all African finance.