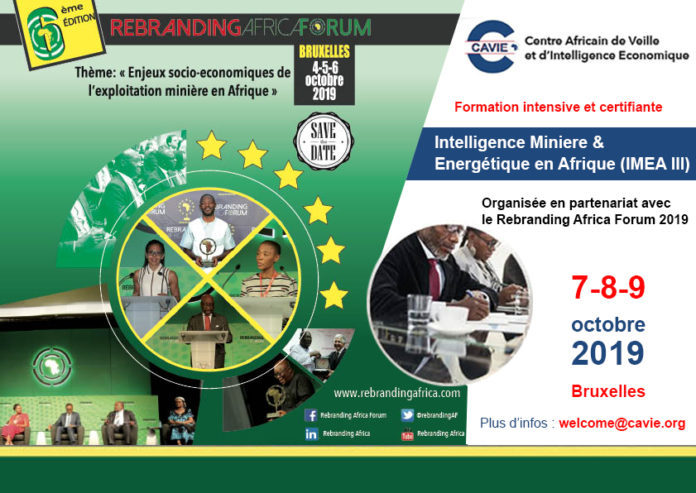 On October 4th and 5th, 2019, the 6th edition of the Rebranding Africa Forum will open its doors to more than 500 participants from all over the world. At the heart of the debate: African mines. On the sidelines, an intensive and certified Mining and Energy Intelligence training will be organized by the CAVIE in the capital of Europe.
Under the theme « The socio-economic challenges of mining in Africa », the 6th edition of the Rebranding Africa Forum (RAF2019) will open its doors to more than 500 participants from around the world on October 4 and 5, 2019.
On the sidelines of this meeting, the African Center for Business Intelligence and Intelligence (CAVIE) is organizing – in partnership with the RAF – an international training session on economic intelligence for African markets focused on mining and energy from 07 to 09 October 2019. The Center will be informed of the most advanced methods, techniques and tools for collecting, processing, analyzing, monitoring, managing and securely transmitting information useful to the public. decision-making in African markets.
In the ultra-competitive segments of mining and energy, highly exposed to corruption and subject to omerta, not all players are in the same category. The databases of projects and tenders are prohibitive for some. Hence the need for the CAVIE, which is one of the missions, to equip African actors with practices and techniques adapted to the harshness of the competition.
Exceptionally, participants in the RAF2019 have the opportunity to benefit from a preferential rate (1000 euros economy) to participate in the elite forum and certifying training with the RAF-CAVIE ticket to be found on the site of the event, within the limit of the remaining places: https://rebranding-africa.com/inscription/
For Guy Gweth, supervisor of this high-level program, head of Doing Business in Africa at Centrale Paris since 2012 and Director of Operations at Knowdys Consulting Group, « this unique training on the continent will truly give the actors their autonomy. mines and energy willing to analyze their market, monitor their competitors, follow the action of civil society, anticipate and influence public decision in Africa « .
The Brussels session will therefore enable its auditors to identify upstream tenders and to integrate decision-making circuits, influence those who produce the standards of the sector and those who prescribe them, monitor local competition as much as the movements international market, mapping and documenting major current and future projects on the continent, auditing and securing the information assets of operators active in African markets.
This session will be the 14th, in a year of program, for the Center which already has strong references such as: the Presidency of the Republic of Côte d'Ivoire, the Inter-Employer Group of Cameroon, Togo Invest, the Chambers of Commerce of Burkina Faso and Togo, Castel Group, Loukil Group, Barry Callebaut, SCTM, OCP, Marsa Morocco, SCET Tunisia, Orange Burkina, Sunu Insurance, Chanas Insurance, Togocel, several law firms and numerous media .
Sita Zamundu