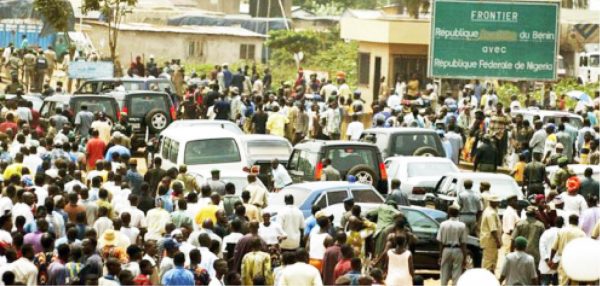 Nigeria denied on Friday, August 23, the closure of its border with Benin, closed however since August 20 by official statement. The interruption noted by the media on all crossing points including that of Sèmè-Kraké, main gateway where most of the traffic and trade between the two countries passes, could be explained by a joint exercise. to counter transnational crime, « said Joseph Attah, spokesman for the Nigerian Customs Service (Ncs). « The country's security agencies have come together to forge links and deploy a joint response strategy to fight insecurity in the area, » he told reporters.
As a reminder, Abuja announced on Tuesday, August 20, 2019, through a press release, the closure of its borders with some neighboring countries in order to fight against insecurity, the proliferation of weapons and smuggling. This decision is not without impact on Benin, of which 20% of customs revenue comes from trade with its powerful neighbor in the East.
If the security arguments are admissible, the collateral damage of such an operation, triggered by surprise without taking into account dry losses and loss of profits of the economic operators of the two countries worries in more than one way. The Lagos Chamber of Commerce and Industry (LCCI) has described as unfriendly the Nigerian government's decision to temporarily close its land borders to undermine the African Union's ongoing efforts to boost trade and investment between states in Africa. the continent. « It's very unfair and not good for business. People doing business at the borders should have been properly informed and notified before closure, « said LCCI's Managing Director, Mr. Muda Yusuff, in the columns of dailytrust.com.ng. Does this mean that the ECOWAS and, even more so, the ZLECA, is only for summits and family photos?