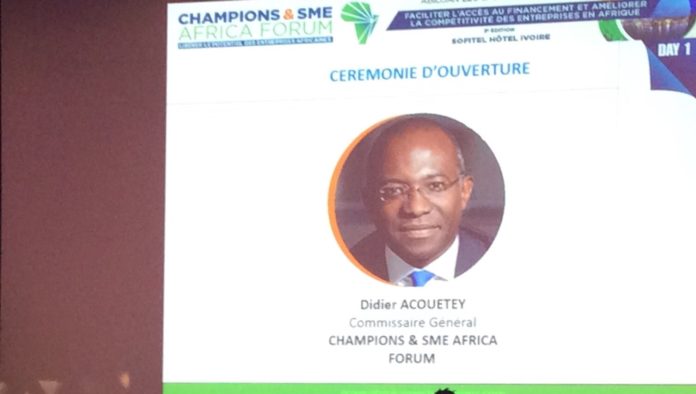 The 6th Africa SME Champions Forum is set to run from the 12th to the 13th of November 2019 in Sandton, Johannesburg, South Africa.
The 2-Day program will bring together 400 of Africa's best high growth SMEs, large corporations, key financial institutions, experts in business development for SMEs and policy makers. The purpose of the forum is to build the capacity of attending SMEs, getting the SMEs ready for financing and putting them in front of key financial institutions and funding partners. Every attending SME is meant to end the event in a position poised for growth within the next 12 months.
SMEs contribute over 45% of employment in Africa, they represent 90% of private businesses, they account for 33% of the continent's GDP and they employ 70% of the continent's rural population. Regardless of this, only 20% of them have access to credit which limits their potential for growth.
Africa SME Champions Forum Chairman, Mr. Didier Acouetey said, "With the youth population in Africa set to grow exponentially over the next few years, job creation will become a greater issue of concern. The solution to job creation and Africa's economic growth lies in SMEs. The more we capacitate them, the more secure Africa's future will become."
The Forum will convene SMEs from 20 countries across Africa and key speakers from across the continent. Delegates will enjoy a rich program built around high level sessions, roundtables, thematic Masterclasses, Sectoral sessions on Business opportunities in Africa. The SMEs will be joined by internationally renowned speakers specializing in financing and supporting the growth of African SMEs, a team of Experts specialized in providing individualized operational responses and financial institution decision makers;
About the Africa SME Champions Forum
The Africa SME Champions Forum was launched in 2014 with the first edition in Dakar Senegal. The 2015 edition was held in Nairobi, Kenya, 2016 in in Abidjan, Cote d'Ivoire, the 2017 edition in Kigali, Rwanda and the 2018 edition was held in Johannesburg, South Africa. The Forum has focused on getting small businesses ready for finance and giving them access to financing opportunities. 30% of attending SMEs over the 5 editions have accessed financing within the first 12 months of attending the forum and the percentage rises to 55% within the last 5 years.
Kapital Afrik intends to deliver strategic financial information to executives and managers, through a daily newsletter and a website that covers all African finance.