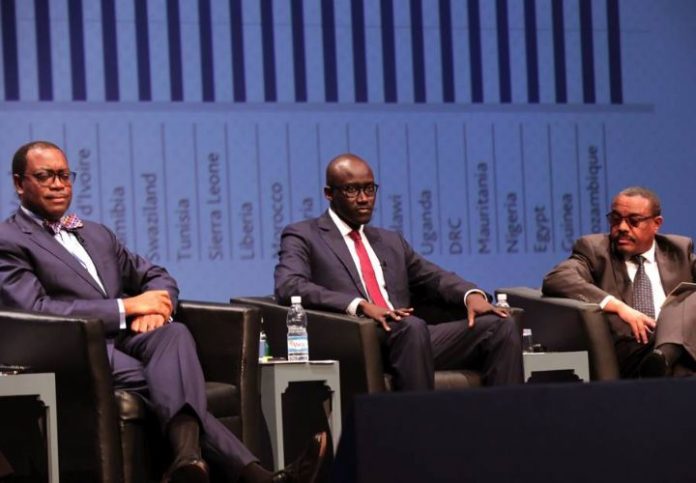 Ivory Coast's Minister of Petroleum, Energy and Renewable Energy, Abdourahmane Cissé, presented Ivory Coast's solutions to fight against immigration and youth unemployment at the Mo Ibrahim Foundation Forum that took place from April 5th to 7th, 2019 in Abidjan.
The issue of youth and employment is an important issue for all policy makers on the African continent. The Mo Ibrahim Foundation has therefore made it one of the reference themes of the 12th Mo Ibrahim Forum, held this weekend in Abidjan in the economic capital of Côte d'Ivoire.
Since Friday, April 5, 2019, Côte d'Ivoire has become, for a weekend, as a "hub of African economy". An opportunity for Abdourahmane Cissé, Ivorian Minister of Petroleum, Energy and Renewable Energy, who took part, on April 6, 2019, in the sub-theme panel: "An explosive youth faced with jobless growth", to decline his vision.
During this meeting, which was attended by Akinwumi Adesina, President of the ADB Group, Desalegn Boshe, former Prime Minister of the Republic of Ethiopia, Roberta Gatti, Chief Economist, Human Development at the World Bank, the representative of the Government Ivorian briefed on the solutions put in place by Côte d'Ivoire to combat the scourges of illegal immigration and youth unemployment. According to the minister, the strategy of the Ivorian government comes in two tables. The first is that it has focused on vocational education, specialized schools which are quite important. The second phase is growth. Because "if there is no growth, you can not talk about the inclusivity of growth".
And to believe it, in terms of growth, "the State of Côte d'Ivoire has already made quite significant progress" with "economic growth which has increased to about 8 to 9% on average per year at during the last six and seven years ". However, the Minister of Petroleum, Energy and Renewable Energy recognizes that this has not always translated into a complete improvement of people's living conditions. In December 2018, the State decided to launch a specific program focusing on the social sector for a budget of just over 700 billion CFA francs over the next two years. This will allow to target specific actions in the social "to ensure that no Ivorian is left behind". Côte d'Ivoire intends to strengthen access to electricity, water, education and many other subjects.
According to the United Nations, by 2050, about 800 million jobs are needed. And Côte d'Ivoire proposes that Africa capitalize on its demographic dividend by making it an opportunity and not a problem. Because a larger population also says a lot more creativity and the opportunity to do much more like China did. And Abdourahmane Cissé explains that his country "is at work" to ensure that the business environment is the most conducive to the development of our young people.