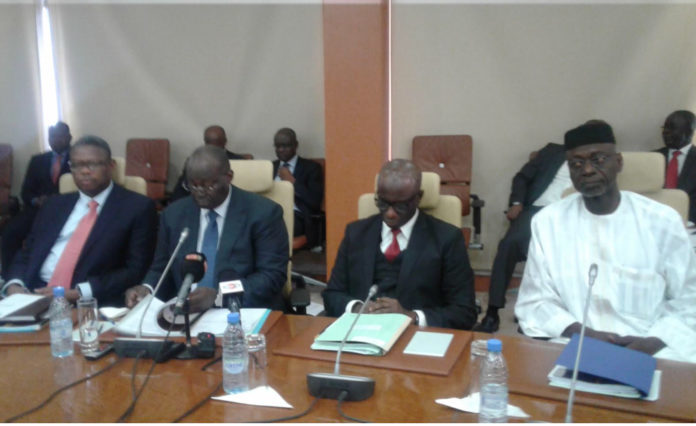 Meeting on March 6 in Dakar, the BCEAO's Monetary Policy Committee (CPM) decided to maintain its key rate unchanged at the end of its first regular meeting for 2019.
In its press release, the CPM indicated that the minimum interest rate for tenders for liquidity tenders remains at 2.50% and the interest rate of the marginal lending window at 4.50%. « The reserve requirement ratio for WAEMU banks remains at 3%, » he says.
« This maintenance of key rates of the BCEAO results from the analysis of the main developments in the international and regional economic situation during the recent period as well as the risk factors that may weigh on the outlook for less inflation and growth. economic union « , noted the final statement read by Blohoue Toussaint Damoh, Director of economic conditions and monetary analysis of the BCEAO.
According to the same source, « WAEMU's economic growth remains robust and robust in the fourth quarter of 2018, standing at 6.8% year-on-year after 6.6% a quarter earlier. »
And to add: « Domestic demand remains the main driver of growth in the union. For the whole of 2019, economic growth is expected at 6.8% after a 6.6% in 2018 « .
In terms of public finances, the committee noted an attenuation of the budget deficit, base commitments, including donations, estimated at 3.9% of GDP according to data of official services against 4.3% in 2017.
Regarding the monetary situation of the union, committee members indicated that the money supply increased by 12.80% year-on-year, supported by a sharp increase of 28.8% in external assets as well as by the increase of 9.8%. , 4% of domestic credits.
« The quarterly average interest rate (TIMT) on the money market rose from 3.45% against 2.50% in the previous quarter, » says the CPM.
And note « a slight increase in annual prices and inflation which stood at 0.9% against 0.4% a quarter rather. This is mainly due to increased prices in the sectors, transport, housing and communication.
According to the CPM projections, over the 24-month horizon, the year-on-year inflation rate is projected at 1.5% in line with the Central Bank's objective of price stability.