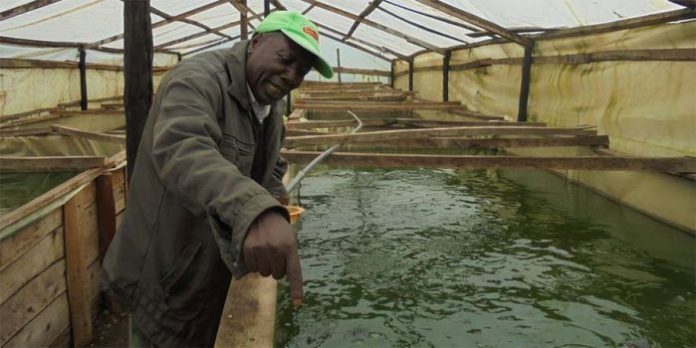 IoT network will help provide insights on fish health to 30,000 fish-pond farmers in Kenya through new app
Liquid Telecom Kenya, part of the leading pan-African telecoms group Liquid Telecom, has deployed an Internet of Things (IoT) network in Western Kenya and Nyanza to monitor and protect freshwater fish populations.
The company has connected ten pilot-phase sensors that monitor water temperature and pH values in ponds. The sensors send information and feeding instructions to farmers through an Android and iOS app called AquaRech, which has been developed by the Kisumu innovation technology hub LakeHub and developers Pinovate.
The partnership plans to equip 5,000 western Kenyan farmers with the sensors and app by the end of 2019. There are some 20,000 fish farmers in western Kenya with an average of 2 ponds each and around 2,400 fish per pond.
The programme will eventually be rolled out to 30,000 fish pond farmers countrywide helping to increase fish production, which fell by 17% in 2017, according to the Kenya National Bureau of Statistics.
"This is one of a series of partnerships we are developing to increase the country's food security as part of the government's big four agenda," said Sajid Ahmad Khan, Chief Operations Officer, Liquid Telecom East Africa.
Using IoT-connected sensors to calculate optimal feeding times was found to reduce fish deaths by 30-40% in a one-year study in Iran by information technology company Afarinesh Samaneh Mehr Engineering Co. (ASM).
"Farmers have been closing down ponds and setting aside fish production as they struggle to feed fish correctly due to changing temperatures and conditions," said Dave Okech, who initiated the AquaRech project and partnership, as the founder of a local fish farming group RioFish. "Our sensors transmit data to the cloud, where it is processed before sending specific instructions to farmers on the timing and quantity for feeding."
AquaRech offers the hope of delivering thousands of tonnes a year in increased fish production, putting farmers back into a sector many have abandoned on the challenges of adapting feeds," said Adil El-Youssefi, CEO of Liquid Telecom East Africa. "This partnership is a great example of how our networks and innovative IoT solutions are helping to transform industries and businesses across Kenya."
---
Liquid Telecom is a leading communications solutions provider across 13 countries primarily in Eastern, Central and Southern Africa that serves mobile operators, carriers, enterprise, media and content companies and retail customers with high-speed, reliable connectivity, hosting and co-location and digital services. It has built Africa's largest independent fibre network, approaching 70,000km, and operates state-of-the-art data centres in Johannesburg, Cape Town and Nairobi, with a combined potential 19,000 square metres of rack space and 80 MW of power. This is in addition to offering leading cloud-based services, such as Microsoft Office365, Microsoft Azure and innovative digital content provision including Netflix and Kwesé TV across our fibre footprint. Through this combined offering Liquid Telecom is enhancing customers experience on their digital journey. 
www.liquidtelecom.com