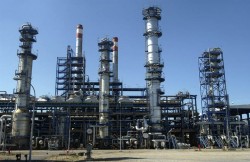 Egyptian oil minister Tarek El Molla announced on January 20, 2019 in Cairo that the country will upgrade six of its oil refineries at a cost of about US $ 9 billion. Objective, secure its supply of hydrocarbons and create significant reserves to no longer suffer fluctuations in oil prices on the world markets.
« We are trying to secure supplies of crude oil from Egyptian refineries to increase local production of refined products, » he said.
According to Tarek El Molla, « investment over a four-year period will boost domestic production to 41 million tonnes per year ».
The country has proven reserves of 3.3 billion barrels of oil in 2017, the sixth largest in Africa behind Libya, Nigeria, Algeria, Angola and South Sudan.