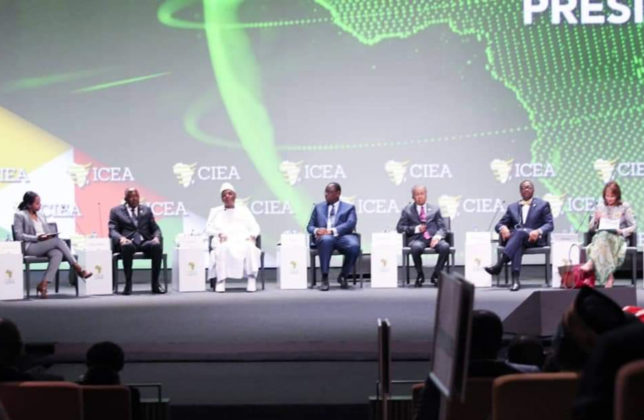 « In spite of all the contingencies, I am firmly convinced that the time of Africa has come. » These solemn words are the Senegalese President, Macky Sall, on January 17, 2019, at the opening of the third edition of the International Conference on African Emergence (ICAE).
Speaking on behalf of the entire continent, the Senegalese head of state believes that « nothing should hinder our resolute march towards emergence ». Applauded by an audience of development experts, African officials in charge of economy, finance and social inclusion, all at the Abdou Diouf International Conference Center, on the edge of the new city from Diamniadio, Macky Sall links emergence to the long term and, he pledges with conviction, to « political determination ».
« The quest for emergence, » he continues, « is the result of a long-term vision and commitment that translates this vision into action. »
And the Senegalese president, candidate for his own succession to the next presidential elections of February 24, 2019, to add in the ingredients necessary for emergence that chouia that has often failed Africans: « believe in yourself ». We must, Mr. Sall recommends, « believe in ourselves, define our own priorities, commit our resources and intelligence, mobilize mutually beneficial partnerships. This is what must be our daily life to forge with our own hands the destiny of a prosperous and emerging Africa « .
And to continue: « the challenges are there, immense, we do not ignore them. But the field of the possible to meet these challenges is even greater for a continent rich of its human and natural resources « .
Also present at this conference, the Malian Ibrahima Boubacar Keita, emphasized the security without which there is no development. « Here, we are fortunate to still have Niger, which allows the exploitation of 1 million square kilometers. We have allocated 15% of our budget to Agriculture, the bedrock of our development.  » And President IBK calls for a start: « the time of dignity has arrived, standing up in the wind ».
The conference on African emergence was enhanced by the presence of Malaysian Prime Minister Mahathir Bin Mohamad, who spoke on the economic model of his country.
Financial Afrik se propose de délivrer l'information financière stratégique aux cadres et dirigeants, à travers une newsletter quotidienne et un site web qui couvre toute la finance africaine.