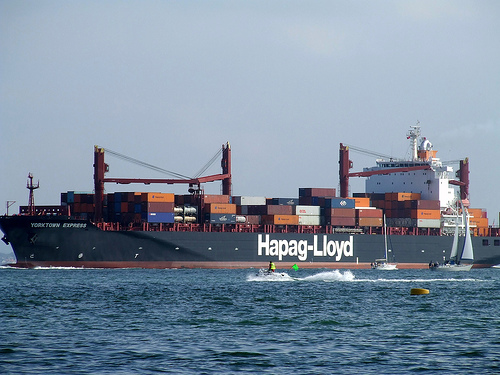 After deploying its services in East Africa last April, the German shipping company Hapag-Lloyd starts a new regular containerized weekly line service at Dunkirk, in connection with Senegal (Dakar), Mauritania ( Nouakchott), Tangier's trans-shipment hub in Morocco and Dunkerque.
Dubbed DEX, for Dakar Express, with a fleet of four vessels with a nominal capacity of 1,700 TEUs, this new service will start at the Port of Dunkirk as of Monday, November 26th. This service will also offer customers serving the Portuguese ports of Leixoes in the North-South direction and Lisbon in the South-North direction.
For Stéphane Raison, CEO, this new service will « reinforce both the strategy of deployment of the temperature-controlled products sector by consolidating the position of the Port of Dunkerque as the leading French port for the import of fruit and vegetables in containers. « , While offering new opportunities for retail, the chemical and pharmaceutical industry, the automotive sector and the agricultural and agri-food business.
For Peter Mertens, Managing Director – Hapag-Lloyd France: « Hapag-Lloyd meets the expectations of the port communities of Dunkirk, Lille and also exporters / importers Hauts-de-France for the arrival of a new owner in Dunkerque. We believe in this port, in its maritime, commercial and human potential. Our new weekly service will be competitive with a wide coverage, live on Africa but also transhipment from our Tangier Med hub. We are counting on the full support of freight forwarders and industry in the region. «