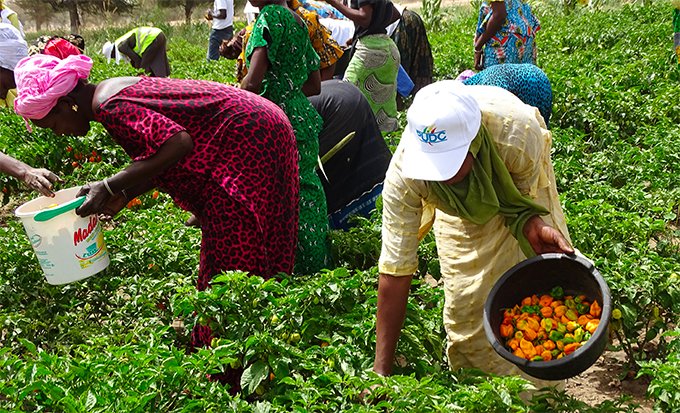 The African Development Bank will help Senegal to continue its Emergency Community Development Program, which aims to develop rural agriculture and provide people in the most remote areas of the country with better access to basic social services. To do this, the Bank has just granted a loan of 60 million euros, endorsed by its Board of Directors, Thursday, September 27, 2017 in Abidjan.
The Senegalese government launched its Emergency Community Development Program in 2015, to which the Bank contributed € 43.8 million. This new loan of 60 million euros from the Bank will help finance the second phase, a cost of 162.03 million euros, which also receives support from the Islamic Development Bank and the Saudi Fund For the development.
Deployed over four years, the second phase will cover several communities in the twelve regions of the country – including Ziguinchor, Kolda, Kaolack, Thies and Kaffrine – and affect 3 million people, including 1.5 million direct beneficiaries. The program includes the setting up of 109 rural agricultural enterprises, the creation of 109 horticultural perimeters (equipped with irrigation equipment), the construction of 105 boreholes and 710 km of rural roads, and the installation of 76 solar power plants. the installation of 1,023 km of medium and low voltage electricity networks, as well as the construction of 70 fully equipped health posts.
Ultimately, the project will contribute to lowering the rural poverty rate from 67% to 54%, the infant-child mortality rate from 51% to 25%, and chronic malnutrition from 21% to 8%.
« We have targeted the most disadvantaged areas, where access to basic social services is limited, » said Serge N'Guessan, Deputy Director General of the Bank for West Africa. And this project complements those already underway in the framework of the Senegal Emerging Plan, which will enable the country to reach the Millennium Development Goals « .
Deployed between July 2015 and December 2017, the first phase of the program had achieved positive results: the electrification work was undertaken in 299 villages, 52 photovoltaic plants were set up, and 127 power supplies drinking water which benefited 304,000 people.
To date, the Bank's cumulative commitments in Senegal amount to almost € 1 billion, spread over 26 ongoing operations. Such a level of commitment reflects the quality and intensity of the partnership between Senegal and the African Development Bank.