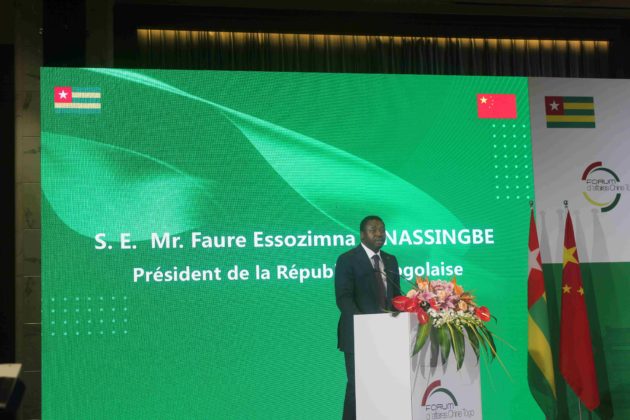 Togo held this Friday 7 September in Hangzhou, China, its first joint business forum with the Middle Kingdom. An event that aims to present businesses in Ziehjang Province with the business opportunities offered by the country.
Presiding over the opening ceremony, the head of state, Faure Gnassingbé, did not fail to praise the local authorities present in the conference room. "The choice of Ziehjang Province for the first edition of this forum is not fortuitous," he said.
"Yesterday mother of paddy fields, then clutch the president, today Chinese capital of e-commerce, this province is the symbol of the Chinese economic miracle that inspires our countries on the African continent. Entrepreneurship, industrialization, exchanges, innovation, the ingredients of the economic transformation of Ziehjang today give birth to its fame ".
According to Faure Gnassingbé, "these are the same ingredients that are economically transforming Togo". And to continue: "we need you, your know-how, your technology and we will help you with a partnership in a win-win spirit to support your growth here".
In addition, the head of state called on investors in the community to "produce in Togo", an expression he has spoken at least three times. It is a guarantee for him to export products without tariff barriers to the Economic Community of West African States (ECOWAS), to have unrestricted access to the American and European markets. with which the country has "special agreements", and "to have unrestricted access to the Chinese market".
To this end, Faure Gnassingbé once again recalled some of the key opportunities that Togo has to offer: a deep water port making Lomé a port hub, an airport that connects the city to more than 20 African capitals. west and center, etc.
"This contribution of the Chinese economic operators to the Togolese economic miracle that we wish for has already begun to materialize," he said with satisfaction, mentioning in particular the construction of one of the terminals of the port of Lomé, fruit of a partnership with the China Merchant Group.
Outside the provincial authorities of Ziehjang and the Togolese delegation, big names in African finance took part in the event. They include Benedict Oramah from Afreximbank, Ade Ayeyemi from Ecobank, and Carlos Lopez, the High Representative of the African Union in negotiations with the European Union.
By our special envoy in Hangzhou, Nephthali Messanh Ledy
Rédacteur en chef de Financial Afrik. Basé à Lomé, Nephthali Messanh Ledy représente Financial Afrik depuis deux ans. Outre l'économie et les finances africaines, il est passionné de l'actualité internationale. Diplômé en Commerce International et en Marketing – Communication, il s'intéresse également aux réseaux sociaux et au football.