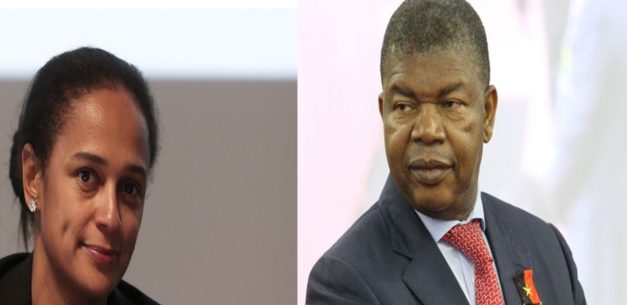 Isabel Dos Santos has begun a new battle with João Lourenço, the successor of his father at the head of Angola. Since the alternation, business goes bad for the daughter of Eduardo dos Santos.
After losing the management of oil and diamond successively in November and December 2017 following his dismissal of the oil company Sonagol and the announcement of Sodiam, the Angolan public diamond marketing company, its withdrawal from the capital of Victoria Holding Limited where we find Sindika Dokolo, the husband of Isabel Dos Santos, a new battle has just triggered between the Angolan president and the businesswoman.
This time, Joao Lourenço ordered, through a presidential decree taken in early June 2018, the cancellation of the concession of a deep-water port in Barra do Dande, a town in the north-west of the country bordered by the ocean. atlantic, referring to a process of review of concessions.
Indeed, the concession was awarded by its predecessor to the company Atlantic Ventures in which Isabel Dos Santos holds shares for the construction of the port.
But the state invokes various reasons, including non-compliance with the law on public procurement. The government complains, in fact, the approach of the former president of « not having complied with legal provisions » on public markets, by granting the project without prior call for tenders.
Joined by La Tribune Afrique, « the businesswoman strongly defends the legitimacy of this market and denounces a politically motivated decision ». It considers that « current decisions to review concessions are motivated by political considerations ».
In a statement sent to the local press Wednesday, July 18, the AV company said « surprise », before denouncing an « unfounded decision » and « expropriator under Angolan law and international law. »
The four-page document defends the law's compliance with the procurement process and all related clauses.
As a reminder, the concession has been attributed to AV since September 20, 2017 by presidential decree of Eduardo dos Santos, supported – according to the authorities – a sovereign guarantee of the State of 1.5 billion dollars, the cost project, to facilitate the start of the works.
The port should be equipped with a 1,600 meter wharf, extend over an area of ​​approximately 100 ha and have a capacity of 3 million TEUs (twenty-foot equivalent) per year, or 3 million container units each year.
Since he came to power in September 2017, João Lourenço has set himself the goal of consolidating the management of the state by making a point of honor to transparency, so that public contracts, in particular, benefit the country better. .
In addition to the dismissal of Isabel dos Santos from the presidency of Sonangol, he canceled several contracts of the businesswoman and his brother, José Filomeno dos Santos, a total of « more than 20 billion dollars ».