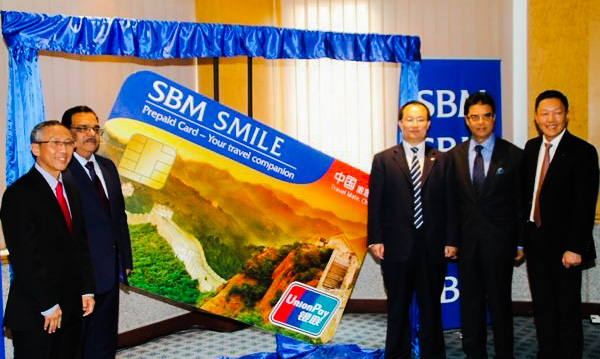 SBM, a subsidiary of State Bank of Mauritius in Madagascar, launched last week the SBP UnionPay Travel Mate Asia prepaid card, in collaboration with UnionPay International (UPI).
Aimed at customers including individuals and corporates, the card will facilitate transactions for merchants, businesses, students and tourists Malagasy, and allow to benefit from fixed exchange rates with prepaid cards, as well as exceptional discounts reserved for its users.
According to Mr. Kee Chong Li Kwong Wing, Chairman of the Board of Directors of SBM Holdings Ltd, « the introduction of UPI will contribute to the economic and social development of the territories ».
« The UnionPay Travel Mate Asia Card SBM in Madagascar will offer, on the one hand, a new cross-border payment option for Malagasy people, especially those traveling to Asia. And on the other hand, it will improve UnionPay's service capabilities for targeted customers and increase UnionPay's presence in Africa, « said China UnionPay Board Chairman Ge Huayong.
UnionPay will participate in product and technology networking and industry development, and provide payment means in Africa and further promote the interconnection of China-Africa payment networks.
Journaliste reporter à Financial Afrik, diplômée en Journalisme et communication à l'Institut Supérieur Entreprenariat ship et de Gestion (ISEG) de Dakar.
Bloggeuse, panafricaniste, elle est membre de l'Union Internationale de la Presse Francophone (UPF).
Maguette est une journaliste passionnée d'économie et d'actions humanitaires et intéressée par les questions liées au Genre surtout celles des femmes rurales.