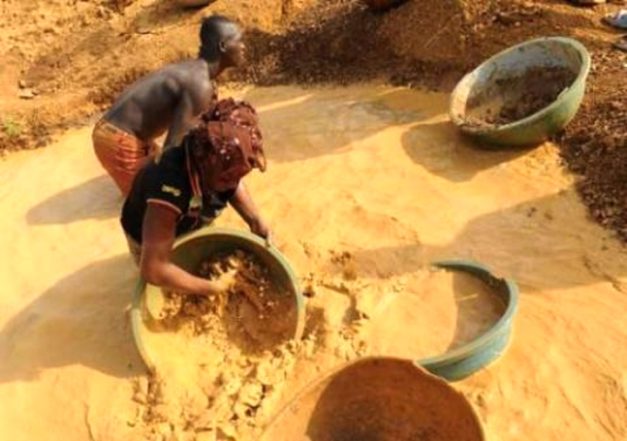 The amount of gold mined in Gabon, mainly in the traditional way, has never revealed its real turnover for decades because undeclared gold miners from the Central African subregion exploit gold mines in the country. Gabon without any control of the State, rather focused on the sectors of oil, manganese and wood, because more profitable.
According to the Gabonese Ministry of Mines, artisanal gold miners would produce on average between 25 and 55 kg of gold / month at the rate of 5000 FCFA per gram. This estimate was made following an audit conducted by the French Bureau of Geological and Mining Research (BRGM), at the request of the Gabonese government.
In recent years, the authorities of Libreville wish to make the mining sector, one of the lungs of the economy of the country in the post-oil perspective. The quantities of gold produced are generally destined for the local market and the many local jewelery shops run by West Africans.
However, part of the gold prospected in Gabon is exported to France and the State would receive a stamping tax from local jewelers and fees related to the establishment of certificates of origin for quantities intended for export .
In 2015, gold mining in Gabon generated 29.49 billion F CFA of turnover. Gabon produced 250 kg of gold in 2017. According to the statistics of the Ministry of Mines, the country officially has 34 operators in the field of research, for a significant investment in 2017.
For the year 2018, the minister expects a production of about 2 tons while the production dropped to about 500 kg in 2017 after having reached 1472 kg in 2015.
The closure of the Bakoudou mine at the end of its potential would justify this fall. The Managem company that exploited Bakoudou is about to launch the industrial gold mining at Etéké in Ngounié (south).
In order to further boost national gold production, on February 15, 2017, the government sold seven additional licenses to four companies involved in the gold mining sector. These are precisely Alpha Centauri Mining SA, Gabon Gold, Maxi Gold and the Equatorial Mining Company (Sem).
Gabon, which has been a member of the Kimberley Diamond Certification Process since 2001, does not have a gold counter or gold or diamond. To date, gold miners, the main actors in the exploitation of gold in the country, operate in the provinces of Ogooué Lolo and Ngounié (center of the country) and those of Ogooué Ivindo (Nord- East) and Woleu Ntem (North).
The first to settle in Gabon is the world diamond giant, the South African group De Beers in 1990, followed in 1999 by Southernera (Canada) and Motapa Diamond (South-South Africa) in 2000.
By Antoine Lawson
Kapital Afrik intends to deliver strategic financial information to executives and managers, through a daily newsletter and a website that covers all African finance.