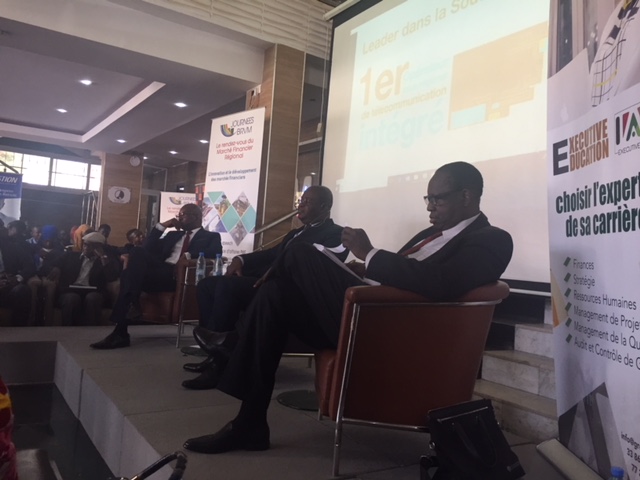 For two days, July 4 and 5, 2018, the Regional Stock Exchange of the West African Economic and Monetary Union « moves » to Dakar as part of its promotional operations.
The operation began this Tuesday at the African Institute of Management (IAM), one of the very first in French-speaking Africa, with a trading room in partnership with the BRVM.
The theme of today's conference focused on « the role of the stock market in Africa's development », in a context, recalls Abdoulaye Guirassy, ​​president of the IAM, « of declining public revenues of most African states « Can be declined from two angles: » financialization of the economy or risk of financialization of the economy? « .
An arrest that leaves no stone Cherif Saliou Sy, secretary general of the Senegalese association of economists and moderator of the session: « Financing development is seeking funding within the limits of sound management, » says the economist.
After the decorations thus planted, the DG BRVM, Dr. Edoh Kossi Amenouve, went deep into the role of the stock market as a development tool.
Firstly because it reduces the intermediation margin compared to the rates of allowances practiced by the banks. « The capital markets connects savers and borrowers directly. Instead of a margin of 4 to 7%, it is between 1 to 3% depending on the country, « says Dr Amenouve for whom the stock market must tend towards the situation described by the Keynesian theory of » perfect competition « , assuming costs null transaction.
Derived from the capital market, the Bourse ensures the liquidity of securities by eliminating counterparty risk. « The stock market allows the transparency and accessibility of information to investors, » says the CEO of the BRVM.
It remains to establish the link, not very clear, between the growth of the stock market indexes and that of GDP. « By reducing the intermediation margin, the stock market creates added value that is found in the GDP defined as the sum of the added values ».
With 28 stock exchanges weighing just 2% of global market capitalization, Africa still has some way to go in capital market integration.
The BRVM, which has only 3 listed companies in a country like Senegal, WAEMU's second largest economy, has a high growth potential in mobilizing the savings of the Union's 100 million inhabitants.
Financial Afrik se propose de délivrer l'information financière stratégique aux cadres et dirigeants, à travers une newsletter quotidienne et un site web qui couvre toute la finance africaine.