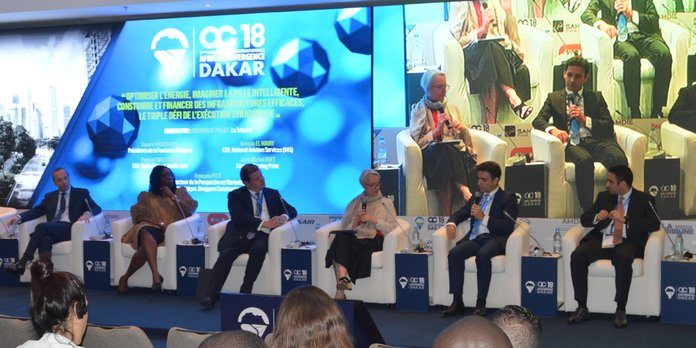 For its third edition held on 21 and 22 June 2018, the Africa Convergence forum organized by the electronic site « Tribune Afrique » has left its comfort zone in Casablanca for the steep cliff of the Pullman hotel in Dakar.
The debates were rich and, beyond the themes that express the anxiety of the hour (water stress), the eternal African challenge (growth, unemployment and demography), the very fashionable « technological innovation », or the contours of the Moroccan Soft Power, the event had (and this is what we liked) a more business than political character.
The general theme, at first glaring of the « Challenges of Strategic Execution in Africa », was fortunately dressed in color by experienced lecturers like Fatallah Sijilmassi, outgoing Secretary General of the Union for the Mediterranean (UfM), facing to an audience of 300 people from all over the world. Another keynote speaker, the philosopher Souleymane Bachir Diagne, professor at Columbia, who advises Senegal not to « at all oil and gas ».
The idea of ​​reconciling strategists and executors, the hallmark of this forum, seems to have succeeded in view of the quality of the interventions. Conductor of this initiative, Abdel Malick Alaoui, head of Tribune Africa, Huffington Post Maghreb and, soon, of Wall Street Journal Africa, summarizes the globalized character of « Convergence Africa »: « Listen I am Moroccan, certainly, but as you can see, the partners of the event come from diverse backgrounds, from all parts of Africa, but also from Europe, « he says.
At the forefront of Africa Convergences' partners was the company Corsair represented by its CEO, Pascal de Izaguirre, who deplored the bureaucratic heaviness of the African skies made difficult by bilateral agreements. Under the watchful eye of Alioune Sarr, Senegalese Minister of Commerce, the Informal Sector for Consumption and SMEs and Mohcine Jazouli, Moroccan Minister, Delegate for African Cooperation, this Dakar meeting fulfilled its objectives of a strategic dialogue implementation-oriented and an integrated Africa.
« We are very pleased with this edition of Dakar Africa Convergence and are especially proud of the support of officials, our partners and many participants. This reinforces our belief that there is room in Africa for original events that address the main themes of African emergence by bringing together thinkers, bosses and officials, « rejoiced at the end of the event Abdelmalek Alaoui.
Directeur de publication de Financial Afrik. Dans la presse économique africaine depuis 17 ans, Adama Wade a eu à exercer au Maroc dans plusieurs rédactions. Il Capitaine au Long Cours de la Marine Marchande et titulaire d'un Master en Communication des Organisations, Adama Wade vit entre Nouakchott et Dakar.