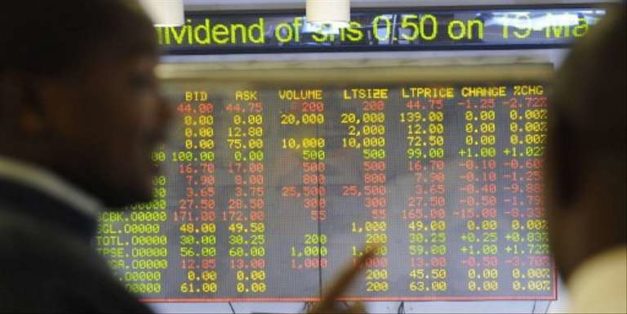 Morose since April, the Kenyan financial market is pulled down by the massive disengagement of foreign institutional investors.
A « frontier » market, the Nairobi Stock Exchange has two main characteristics attached to these financial centers in the making: significant growth potential and … a strong downward volatility. An erratic performance that investors positioned on Kenyan listed stocks rediscover, despite themselves: main index of Nairobi, the Nairobi All Share Index (NASI) begins its third consecutive month of decline since its highs in April. In May alone, it sold nearly 4%. A counter-performance that is nevertheless incommensurable with the defeat observed (-11%) over the same period by the NSE 20 Share Index, the index following the top twenty Kenyan securities (EABL, Equity Bank, KCB, Barclays Kenya , Safaricom …).
To explain this disinterest in the stock market, the Standard Investment Bank (SIB), in its latest market study, notes that « foreign investors have been net sellers of more than 4 billion shillings ($ 40 million). in the month of May, leading to an erosion of the major indices […] « . As a result, over the past period, the stock market valuation of Kenyan stocks has evaporated by more than 95 billion shillings ($ 945 million).
Analysts at the firm Cytonn Investments, quoted Tuesday by our colleague Business Daily, abound in the same direction when they point out that there was « a strong selling pressure exercised by international institutional investors, the latter having disengaged of the market after the end of the season of the divends « , which would run precisely until May. More, « this decline occurs in a context where the volume of transactions is significantly increased (18.4 billion shillings exchanged in May, against 15.1 billion in April), a sign of heavy downward movements, » decrypts Olivier Muneza, broker at MBEA Brokerage.
For Cytonn Investments, however, this would be a normal and temporary profit taking, as most investors have moved out of their positions at the top of the cycle, with the possibility of re-entering the future at a higher valuation level. weak, « concludes the company in its note. Relative optimism not shared by all market operators. « Since April, it is almost 15% valuation that have been lost, » recalls Isidore Mutabazi, financial analyst at CDH Capital in Kigali, for whom « we can fear a beginning of the bear market, brightened by the current increase economic uncertainty « .
By Jacques Leroueil, correspondent for Kigali.
Stock market evolution of Nairobi All Share Index since April 1, 2018
Source: Bloomberg
Total market capitalization of the Nairobi Stock Exchange as at 1 April 2018:
2893 billion shillings ($ 28.6 billion)
Total market capitalization of the Nairobi Stock Exchange as at June 5, 2018:
2546 billion shillings ($ 25.2 billion)
% Change over the period: – 11.99%
Source: Nairobi Securities Exchange
Financial Afrik se propose de délivrer l'information financière stratégique aux cadres et dirigeants, à travers une newsletter quotidienne et un site web qui couvre toute la finance africaine.