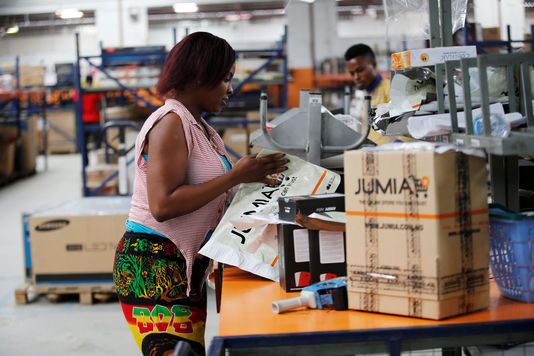 With a focus on profitability for the time being, the pan-African online sales platform is aligning a new negative exercise.
Like its big brother and American model Amazon, long deficit, the pan-African company e-commerce Jumia multiplies the years in the red. Posted in a statement Friday, from the Lagos continental headquarters, the results of fiscal 2017, are no exception. Sales of the online sales platform may well have increased by 11% in 2017 (to 93.8 million euros), its losses have not diminished, the gross operating deficit reaching 120 million euros, compared to 91.3 million euros a year earlier.
A situation that does not seem to affect the optimism of two founding CEOs of the company, Sacha Poignonnec and Jeremy Hodara. « We have made great progress in 2017 with significant growth in our business. This growth demonstrates the vitality of our activities and the growing adoption of e-commerce by African consumers, « said the two French executives, quoted in the statement.
The young company, which has more than 5 million products on sale at its sites, claims, moreover, an increase of more than 40% in the volume of products traded on its sites, for an overall value of over 500 million euros. in 2017. « A rapid evolution of turnover (multiplied by 10 since 2013) and which reflects a strategy of rapid market share gains at the expense of profitability, » says Lionel Nsabimana, an analyst at CDH Capital scholarship, in Kigali. It remains to be seen whether the main shareholders of the company (MTN, Goldman Sachs, Orange, Axa) – not listed on the stock exchange – will have the patience to wait for a hypothetical return on investment.
Founded in 2012, Jumia first benefited from the support of Rocket Internet, the German incubator of billionaire brothers Samwer, known for launching start-ups replicating US successes. The e-commerce business is now present in 14 countries of the continent, Nigeria being its largest market.